The Global Disciples Approach
THE SINGLE MOST IMPORTANT THING we can do as leaders is to provide clarity for the people we lead. We must be absolutely clear about why we are doing what we do, what is important to our organization, and how we will go about accomplishing our mission. Learn about the Global Disciples Approach to equip leaders and empower communities through discipleship and leadership.
This clarity will allow us to see even greater results from our ministry activities. And it will lead to a healthier organization. God has accomplished phenomenal things through Global Disciples in the last 27-plus years.
We are often reminded of the words of the prophet Isaiah. "Lord, you establish peace for us; all that we have accomplished you have done for us" (Isaiah 26:12).
It's remarkable to see what God has done through the clusters of churches we equip to train and send out their workers to least-reached areas. Since 2008 we have seen more than 27,000 new churches planted and over 600,100 new believers come to faith in Jesus Christ, disciples, and involved in new fellowships—most of which are located in Gospel-deprived areas.
By God's grace, the truth of His Word, and the power of the Holy Spirit, more has been accomplished than we imagined possible. In all this we want God to receive all the glory and credit He deserves!
The Global Disciples Approach
As Global Disciples moves forward, we have developed the Global Disciples Arena which outlines the four areas where total clarity is essential:
1. Our Mission: Why we do what we do and what we are accomplishing by God's grace.
2. Our Core Values: Who we are and our pattern of relating. This is the ethos or DNA we need to accomplish our mission.
3. Our Guiding Principles: How we are committed to operating and carrying out our mission.
4. Our Central Focus: What we need to be doing day in and day out to accomplish our mission.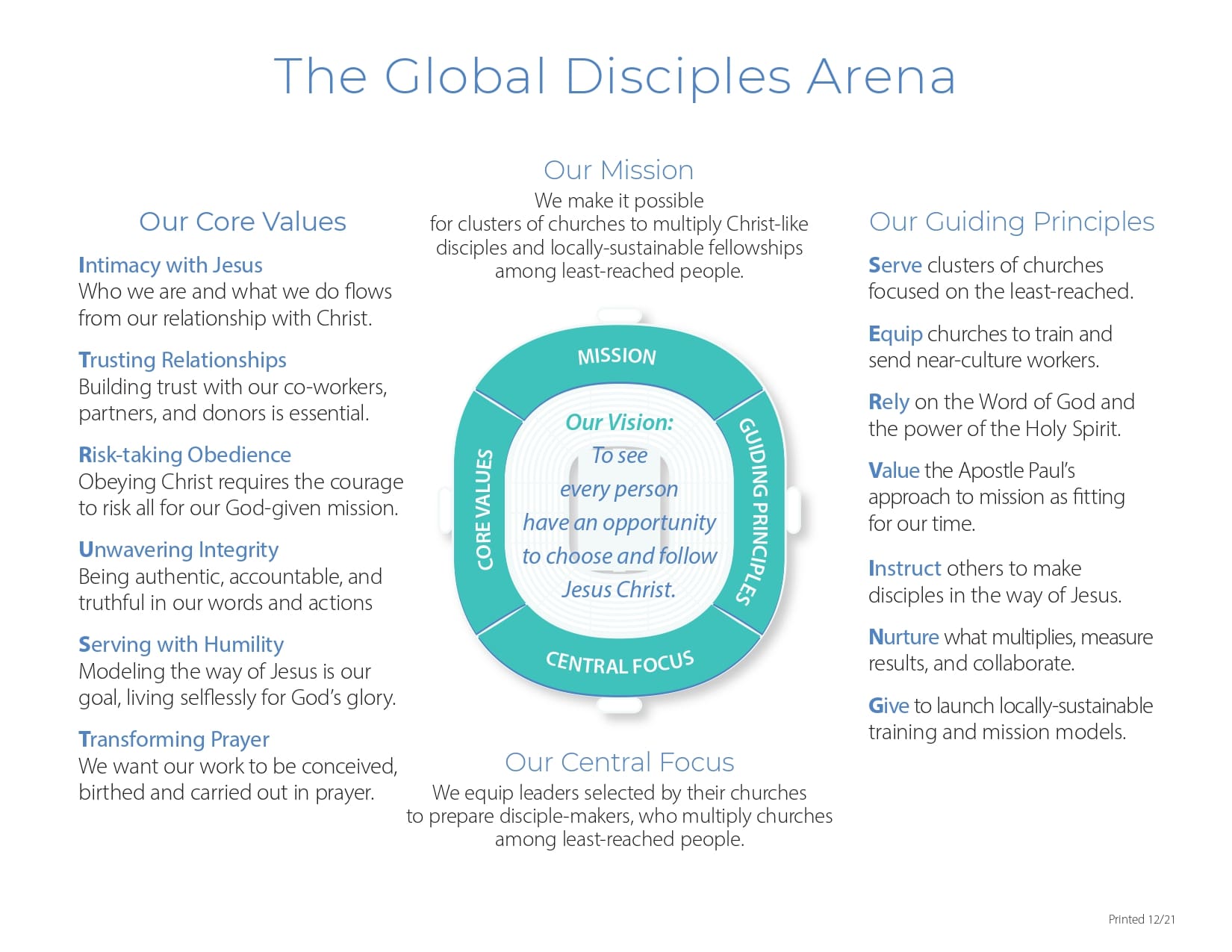 When we have clarity in these areas, our Global Disciples team is empowered to make decisions aligned with our core convictions. In the process, it also provides a high level of accountability for everyone on our team. As leaders, we want clarity so that healthy and productive people know how to make their best contribution within this organization.
The Global Disciples Arena
The Global Disciples arena is a simple tool we are introducing here. It will allow for better alignment around our ministry philosophy and approach. We believe that by clearly defining our arena of ministry, it will:
Empower our personnel to make good decisions,
Provide accountability among our team members,
Allow us to better assess alignment and effectiveness,
Make it easier for people to understand Global Disciples,
Help recruit and equip people who share our convictions.
 We also want to define our training model or strategy. Let's call this our Global Disciples Approach.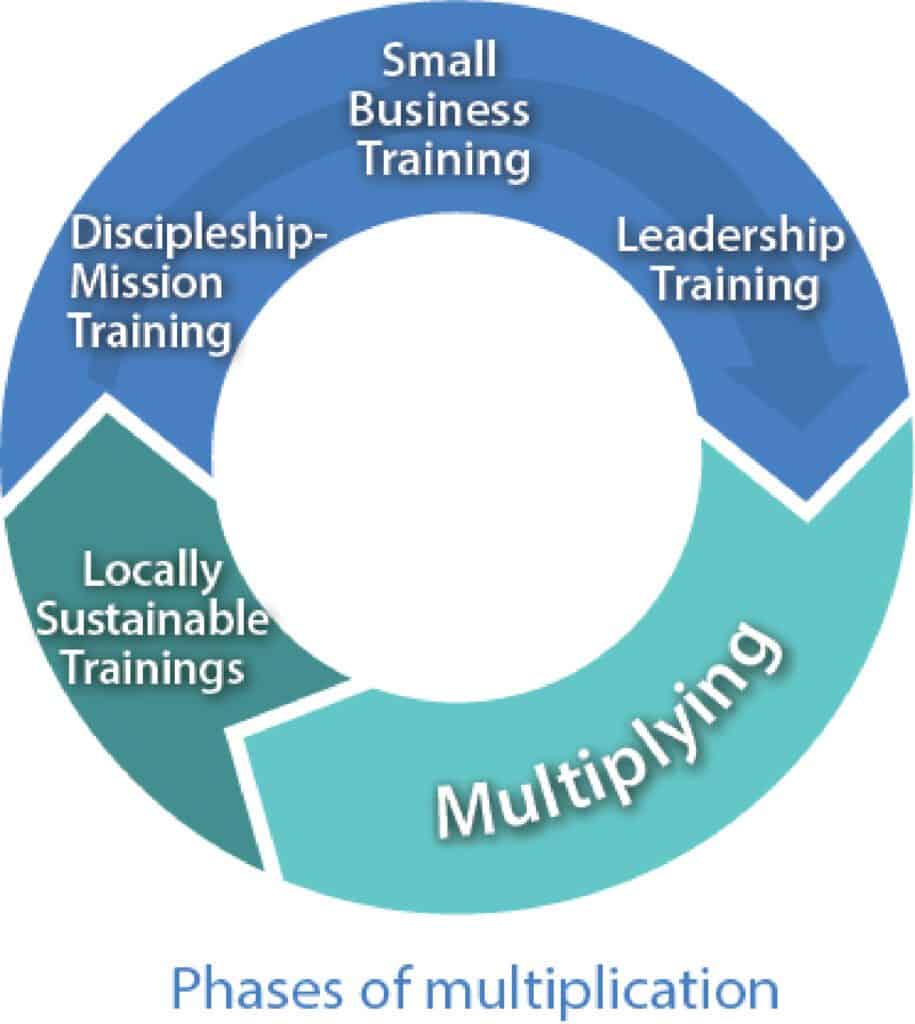 We seek to provide a clear picture of the three phases of training—discipleship-mission, small business development, and leadership—working cohesively together to accomplish our mission.
May we be faithful in the mission to which we have been called until "the earth will be filled with the knowledge of the glory of the Lord as the waters cover the sea" (Habakkuk 2:14).
Global Disciples Canada is a Christian mission organization that trains local leaders living near least-reached communities to multiply disciples for Christ. One-third of our world hasn't heard the Good News of Jesus. Yet. Global Disciples refers to these as "least-reached" people, and fewer than 10% of all missionaries work among these groups. We live in a time where many of these people are within reach of a local church. Through our simple and effective strategy of training and coaching, believers share the Gospel in their own nations and cultures. Jesus said, "Go and make disciples of all nations," and we're committed to doing just that. If you are looking for a Christian mission organization to partner with to become a better disciple and help make disciples, connect with us today!
Give monthly, reach the world.
Join our community of monthly donors bringing the hope of Jesus to least-reached people groups around the world.