6 Christian Missions Organisations You Should Support
In Philippians 4:15-20, the apostle Paul shares with the church how encouraged he is by their generosity towards his ministry. But it is clear that he is not as delighted about getting a gift for himself as he is that the church is getting to take part in the joyous experience of giving towards expanding God's kingdom. He knows very well that when we commit every part of our lives towards the gospel, we get to share in the joy of helping others know Christ deeper.
Here are some Christian Missions Organisations that you can experience this joy of giving towards.
While there are many mission organizations that train and send their people to distant countries to spread the gospel, Global Disciples Canada is distinct from these in that it believes that the local church in any of these distant nations is best positioned to reach the lost around them.
Local Christians know the local languages, cultural norms, and ways of approaching conversation better than a visiting missionary could ever hope to.
Even though one-third of the world has not heard the gospel, a large number of these people live close to a Christian church. Rather than spending large amounts on sending their own people to these nations and then risking failure due to cultural shock and other challenges, Global Disciples Canada rather focuses its efforts on training and equipping the believers that have already grown up in these areas to more effectively reach their fellow countrymen for Jesus Christ. Be apart of this dynamic ministry by donating at Global Disciples Giving Link.
Christian and educational products contributed to CSM Canada are shipped worldwide. Their primary goal is to make these materials available to organizations and individuals that would otherwise be unable to obtain them. Shipment of the materials is free of charge to the recipients. If you'd want to help, you can donate, volunteer, or offer books.
CSM Canada, Inc. gathers Bibles and other Christian resources nationwide and sends them to the areas that need them most. Their intention is to ensure that every single part of the written gospel continues to be used to spread the good news.
CTEN is a charitable organization that supports missionaries. Realizing the unique purpose that God has given them, they help missionaries get to the field, providing the administrative support they need. They help by providing pastoral care before the missionary leaves for the mission field.
Samaritan's Purse is an evangelical Christian organization that helps people worldwide in both spiritual and physical ways. It has a long history of providing aid to those in need in war-torn countries and areas hit by natural catastrophes, disease, and starvation to spread the Gospel of Jesus Christ, the Son of God. They participate in various projects, including disaster response, medical missions, and human trafficking prevention.
As a Christian relief and development organization, World Vision seeks the core causes of poverty and injustice in the developing world, working with local people to alleviate their suffering.
Jesus' example of unconditional love for the impoverished and persecuted inspires their work. They've worked on projects including giving food to hungry children and families, educating people about the need for clean water, and providing youngsters with life-saving medication.
Among the goals of SIM Canada is to see Christ's love demonstrated in the places where it is least known, to have disciples of Jesus showing God's love in their communities, and the realization of Christ-centred churches in every nation.
As the world gets better connected through technology, the opportunities for reaching the lost grow exponentially.
It is a joyous experience to donate towards mission work and even more joyous when that mission work is done effectively in an ever-changing world. May we all share the joy in giving towards Jesus' Great Commission.

For many of the above-mentioned organizations, a gift of any size would be greatly appreciated.
Global Disciples Canada is a Christian mission organization that trains local leaders living near to reach least-reached communities to multiply disciples for Christ. One-third of our world hasn't heard the Good News of Jesus. Yet, Global Disciples refers to these as "least-reached" people, and fewer than 10% of all missionaries work among these groups.
We live in a time when many of these people are within reach of a local church. Through our simple and practical training and coaching strategy, believers share the Gospel in their nations and cultures.
Jesus said, "Go and make disciples of all nations," and we're committed to doing just that. If you want a Christian mission organization to partner with to become a better disciple and help make disciples, connect with us today!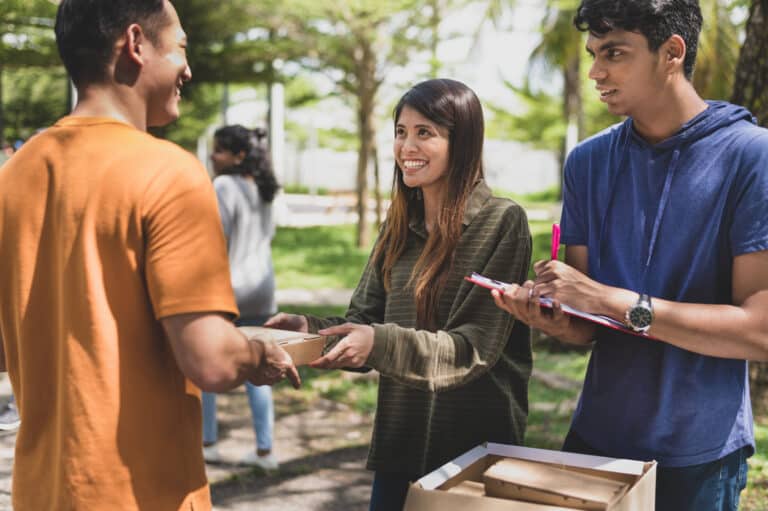 Impact your inbox
Subscribe to our email list to stay connected with Global Disciples and get a monthly reminder of how God is working in least-reached areas across the world.
"*" indicates required fields
Give monthly, reach the world.
Join our community of monthly donors bringing the hope of Jesus to least-reached people groups around the world.