Friendship in Vancouver's Downtown Eastside
Joben David is the Executive Director of Jacob's Well, a faith based non-profit located in the Downtown Eastside of Vancouver (DTES) with a rich history. In this episode, Joben shares about the Jacob's Well community that he leads in Vancouver's DTES and the challenges associated with this role. He explains how their welcome mat doesn't stop at the door but extends to under their table, where Jesus is already sitting! He questions our motivation to rescue the poor, as it may actually be us who are in most need. And he challenges us, as Jesus followers, that we are all able to welcome and have mutual friendships with people who are not like us. As we do this, we can discover the true meaning and purpose of friendship and family.
"In 1976, at the age of 60 a woman by the name of Pauline Fell began walking the streets of the DTES. Although she was a new Christian, she asked God what He wanted her to do with her life and felt His prompting to befriend people in the neighborhood. For the next 25 years, almost every day she faithfully walked the streets and alleys, and visited the bars, prisons local hospitals and hotels where her many friends could be found. She was known to many as "sister" or "mom", and virtually everyone in the neighborhood respected this elderly woman.
In November 2000, Pauline felt God urging her to give her inheritance away before she died. She pondered this and believing that God wasn't speaking to her about money, she asked what her inheritance was. Immediately she saw faces flashing before her, hundreds of faces of the people that she had become friends with over the past 25 years. She realized that the many friendships she had built were a rich inheritance, and that it would be squandered if she didn't pass them on before the end of her life. Jacob's Well was directly birthed out her diligence and obedience." – Jacobs Well History
You will want to hear this episode if you are interested in…
The origin of Jacob's Well – born out of a legacy of friendship [4:30]
The 'table of welcome' – I see YOU, not just your hunger [6:00]
We're purposely not a church, but we do act like one [8:10]
How can we move from being a rescuer and instead "deep dive into friendship" [10:28]
Where the middle classes have been Covid isolated, how have those in the DTES managed to remain in community? [13:35]
How family is always better than charity [15:37]
Where are the poor in my city? [17:14]
Why do 'rich' Christians struggle to live alongside the poor [18:15]
We're all 'in recovery' but we just don't recognize it [20:48]
Jesus is already at the table, and invites us all to come [22:00]
How can we deal with people with a high level of mental health needs [26:50]
How do you look after yourself [31:43]
Resources & People Mentioned
Connect With Global Disciples Canada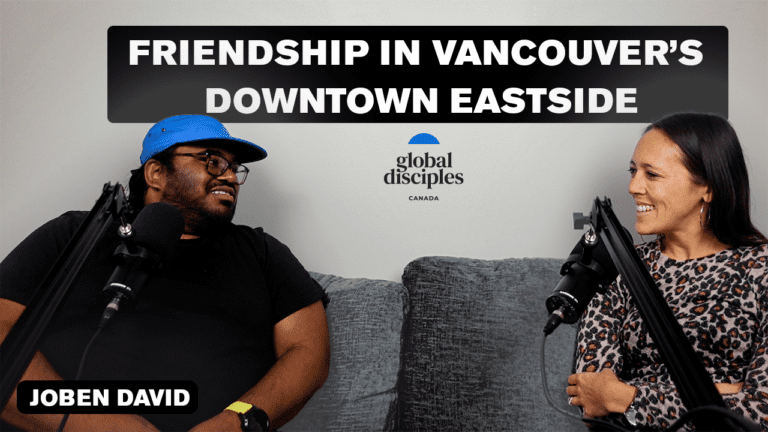 Impact your inbox
Subscribe to our email list to stay connected with Global Disciples and get a monthly reminder of how God is working in least-reached areas across the world.
"*" indicates required fields
Give monthly, reach the world.
Join our community of monthly donors bringing the hope of Jesus to least-reached people groups around the world.